Customer Service Rocks!
30 June 2017
Anne Marie Forsyth, CEO, CCA

We were thrilled to be on site at Barclays in Liverpool yesterday for our Industry Council Thought Leadership forum where we discussed what 'always on' means to those delivering and managing customer service.

Ours is a very different world than that which customer service centres were born into some 30 years ago, with new demands requiring serious cultural, structural and procedural shifts throughout the business.

The event coincided with the 50th anniversary of the ATM and the 10th anniversary of the iPhone. These innovations have provided us consumers with ultimate control at our fingertips, when and wherever we desire. In 1967 the ATM gave us a glimpse into our digital future, although perhaps it's creators didn't quite realise it's full impact at the time.

Barclays recently invested £15m into their Liverpool customer service centre and we heard how the business is dedicated to a joined-up approach, quite simply ' you could feel the buzz'.

Creating a culture where colleagues are encouraged to respond to the demands of their global customer base with a renewed 'can do - why not? is the holy grail, a task which they readily admit is a journey and certainly not a destination.

So, what's different? An enterprise wide understanding about how complexity and complaints management is so critical to success is driving the need to alter the way things have been done in the past.

The team leader population have a critical and pivotal role in any organisation often being 'social worker', scheduler, data analyst and customer 'fixer' - all in a day's work. The notion that they are spreadsheet managers, working in stifling silos has been consigned to history; they are now recognised as true leaders in the business.
In Barclays, the global #leadershiprocks programme has been instrumental in connecting colleagues to collectively enact real change – now that rocks!

We also heard from Stephen White, Chief Operating Officer at Yorkshire Building Society who believes that UK businesses take a traditional approach to how we work and how we deal with our colleagues – we need to innovate. If it affects customer it needs to take centre stage.

David Smith, Economics Editor for The Sunday Times delivered a thought provoking presentation reassuring us that humans are not going out of fashion anytime soon but that we will create a new future, shaped by innovation and new technologies which is what we have been doing for centuries.

He used Keynes wisdom to remind us that things don't always work out as predicted.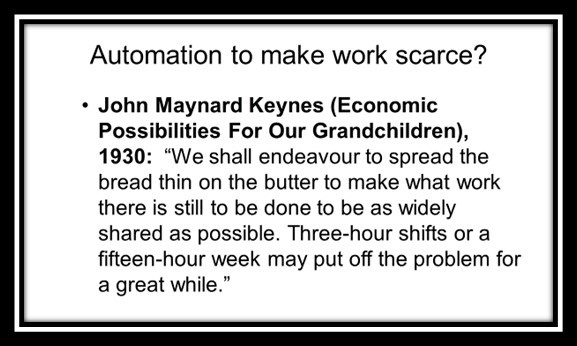 And finally, we ended with a presentation from Michael Fasosin, Chief Strategy Officer at DigitasLBI. Michael used a fascinating example of Whirlpool installing washers and dryers into underperforming schools in the US to solve a major attendance and attainment issue. Quite simply, pupils were absent because they didn't have clean clothes. Who knew? A fantastic example of how an enquiring disposition, dedicated data analysis, application of the internet of things and technology installation all came together to find the problem, assess the impact, provide a solution and get a desired result.
A huge thank you to all our presenters and to our fantastic thought leadership futures forum – you rock!
Have a great weekend!